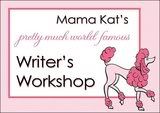 23rd April 2010
I've missed the past few Workshops due to one thing or another and I have found it a bit hard to get back on track. I'm not even sure I can do it justice this week, but I'm determined to try! As usual I may get a little side-tracked, but I'll do my best.
5.) Mother's Day is coming…what is the secret behind the close bond you have with your mom? OR What do you do to create that close bond with your kids?
Okay. So, any of the 5 people who read my blog know that my Mum died 6 years ago now from Cancer. And that I have a teenage daughter who I love fiercely, and who frustrates, and scares, the hell out of me.
I was lucky enough to have my Mum when I was growing up.
She was the 'cool' Mum that everyone wanted. She hung out with us, not in an over-protective way, or in a creepy Mutton-dressed-up-as-Lamb way. But in a listen to music, chill on the couch, I'd-rather-you-did-it-here-than-get-in-trouble-on-the-streets kinda way. My friends still dropped in to visit her long after I had gone my own way, and most of them attended her funeral.
Don't get me wrong, she was no pushover. She just knew what teenage kids were thinking, and she was able to cause it to flourish in a non-destructive way, rather than try to stifle it like most of my friends parents did. She allowed us to be ourselves so that we didn't feel the need to rebel and be someone else. And in that way she was the best Mum ever.
She was also mean, and cruel. She shouted and threw things, and she stayed locked in her room crying. She was selfish. She said the most horrible things.
It wasn't until I buried her and was diagnosed with Bi-Polar after having the same problems that I realised that she was sick.
She never told me or my brothers that she had BPD. I don't even think she knew herself. She just suffered in silence. That was typical of Mum. She was proud. Too proud to admit that she needed help until it was too late.
If there is one thing that I have learnt from my Mum it's to be open and honest with Tomika. I KNOW I need her help sometimes, and I'm not afraid to ask. I've been accused of putting too much on her young shoulders. Of not allowing her to live the life of blissful ignorance that a child should.
But I just think of my Mum, and I refuse to have her feel helpless. I refuse to have her sitting on the ground outside my closed door crying silently because she doesn't know what to do. I know that for us to to have a close relationship, I can't lie to her. She deserves to know why Mum's in bed sometimes. She deserves to know why Mum cries occasionally.
She deserves to know it's not her fault.