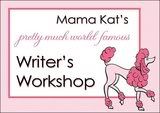 (I originally had this posted on my Writers Workshop page, but for some reason the comment feature on Blogger static pages is currently not working, so it's here.)
25th February 2010
My second attempt. Let's hope this one is better!
3.) "What images inspire you immediately? Open a magazine and create a piece of writing (poem, story, essay) about the first image that captures your imagination."
I am a child
My body deceives
My appearance doubts
My mind in turmoil
Confused
My back aches
My shoulders distort
My pain persists
Daily
My peers tease
My elders stare
My inner conflict
Abounds
My parents defend
My friends covet
My nightmare asks
Why
My dearest wish
My breasts reduced
My worth enlarged
Please?
I am a child