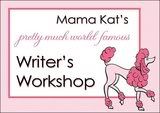 18th march 2010
Once again it is time for me to stretch my wings and delve into Mama Kat's ever-so-insightful prompts to show off my writing prowess. I have chosen prompt number one this week. Just because it was the BEST DAY OF MY LIFE, and I would re-live it over-and-over if I could.
1.) If you had to relive a day in your life what day would it be?
I was late, really late. And I was shitting myself. Deep down I just KNEW how it was going to turn out.
I raced in the door, apologising profusely, the receptionist smiled condescendingly and gave me a form to fill in. When I finished, she said, "It'll be a while, take a seat."
I sat down and looked around, tense as hell.
There were others waiting there too, and they were in the same differing states of apprehension.
Finally I was called in to the office and I faced a panel of experts. A PANEL. They reinforced the fact that I was late, and I nervously said I knew.
They talked to me for a while, asking me a mixture of surface and personal questions. How did I handle responsibility...? What would I do if...? And so on...
They explained their professional position, and their personal opinions, and asked me what my thoughts were.
I said I was pleasantly surprised, appreciative of their feedback, and that I would get back to them.
I floated out the door.
After being told by countless 'experts', it would NEVER happen...
I was PREGNANT!