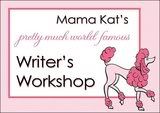 12th March 2010
It's Writers Workshop time with Mama Kat. This is my submission for this week, I know I'm a day or two late, I haven't been well...
1.) Write a letter to yourself from someone who has passed on. (ie: parent, grandparent, famous person, friend, pet, etc)
I seem to be surrounded by memories of my Mum these past few days. First last weeks Writers Workshop piece about
being blindsided
, then her
ring having to be cut off
my swollen finger, her
Birthday
on the 9th, and now her 6th Anniversary is coming up on the 8th April.
I decided to take on this weeks letter post to try to round out what I've been feeling, and maybe inject some perspective, and maybe a bit of humour into the whole situation.
Stop blubbering. I'm gone, and it's time to get on with it. And what's with keeping my ashes in the box they came in? It's getting crowded in here. An upgrade would be nice; bit more room, a couch. Maybe a lava-lamp...
Thank you for the collage you and Tomika made for my birthday. It's beautiful.
Are you STILL single? Just because I'm dead, doesn't mean I don't want more grand-babies. Hop to it kiddo, I haven't got all eternity. Oh wait... I have. But you don't. You're not getting any younger you know.
The Munchkin got BIG. Tell her Mima said "Hi". I've still got that double-barrelled shot gun if you need it. (For the boys, not her!)
My funeral was beautiful.
You're as clumsy as ever. Yeah I saw, I see EVERYTHING now... Mwahaha!!! (By the way, it's just a ring. Get over it. I'm quite attached to your fingers where they are thanks.)
Who do I have to pray to around here to get a cuppa?
Wow, you've gotten cuddly. What the hell did you eat?!
You've done a good job with the Munchkin, she's a great kid.
That photo you have on your computer table... The one of me in 1981 with the bad perm? Get rid of it. You know you only have it there to annoy me.
I'm not in pain anymore.
Get over the Twilight obsession. Seriously, you're 35. It's creepy.
My chicken soup only has ONE packet of pasta, not three you drongo!
I appreciate everything you did for me those last few months. I sure as hell wouldn't enjoy helping you shower either!
I'm sorry for leaving.
I Love You.