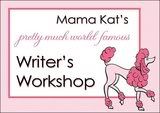 4th March 2010
5.) Who blind-sided you? Write about a time someone caught you totally off guard.
She was 52, and the strongest person I knew.
The cancer started at 40. In her left breast, then her lung, then it metastasised to her bones. The doctor gave her 6 Months. Even after they cut her breast off.
The Radiotherapy gave her second degree burns. They had to be covered in antiseptic and re-dressed twice a day. Chemotherapy was a bitch. She was sick, vomiting and shaking. She lost all her hair. So she stopped after one treatment. She said she'd rather LIVE, than live.
She needed oxygen 24/7, and help showering, so she moved in. On her birthday, she fell and broke her leg. Her bones were so brittle you see? I didn't get to her in time to catch her. Eventually they put her in a wheelchair. She hated the confinement. She couldn't move around, so she gained weight. She was beautiful.
During the day she would joke, play cards, do crosswords. She would knit, argue, laugh. At night she would moan from the pain. She cried in her sleep. She wet the bed. She screamed.
I loved her. I hated her.
On the 8th of April 2004 she left me.
I miss you Mum.